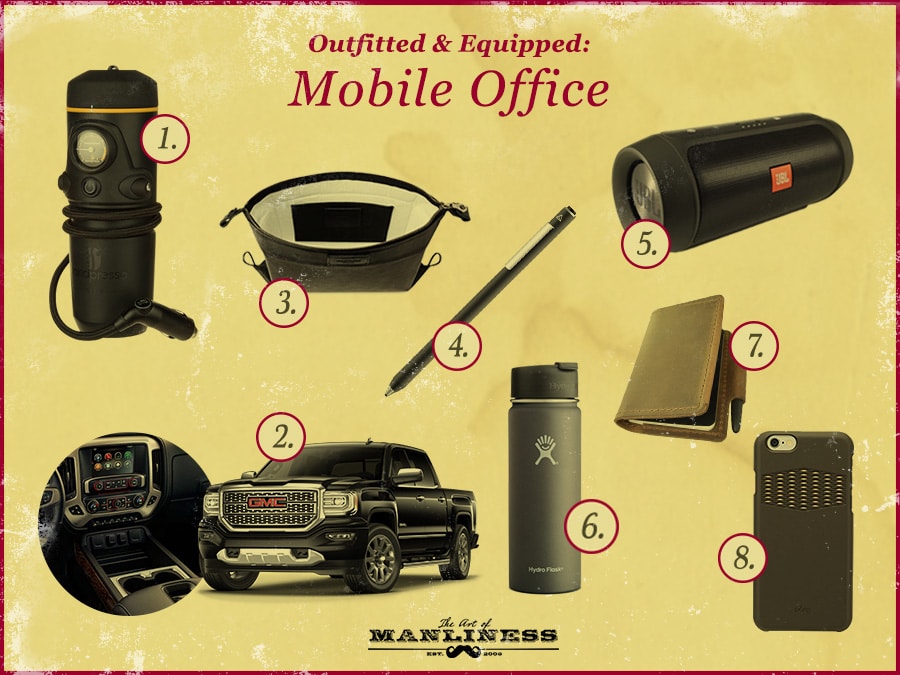 This post is brought to you by the

2016 GMC Sierra

. Through precision, great trucks and great men are made. THIS IS THE PRECISION OF PROFESSIONAL GRADE.

What's this?
Working from a mobile office has many upsides. One of them obviously being posting a picture of your laptop and coffee mug from an oceanfront balcony with a caption like: "My office for the day. Could be worse." (Or something to that effect.) But it also can have some downsides.
The upside to the downsides: they're all easily fixable if you know how to do it properly. You just need a few things (unlimited coffee, energetic music, a good Internet connection, the right car…) to make sure you stay productive.
1. The Caffeine Solution: Handpresso Auto. In terms of not wasting time and not breaking the bank, going to a café whenever you need a coffee just isn't practical. So an espresso maker that uses your vehicle's 12-volt receptacle (aka the cigarette lighter) to heat the water definitely falls under the category of "non-negotiable."
2. The Office on Wheels: GMC Sierra 2016. It's not often that the interior and functions of a vehicle more closely resemble a workspace than some actual workspaces, but that's the case here. This pickup features available technologies like a 4G wi-fi hot spot, a wireless charging station built into its center console and perforated-leather-appointed seats that put any desk chair to shame. "Step into my office" just got a whole new meaning.
3. The Carrying Case: Killspencer Dopp/Folio. Multitasking. When you're working out of a mobile office, it's of the utmost importance. Hence this handsome leather case that doubles as a dopp kit (for your pre-business-meeting grooming supplies) and a folio (for your tablet and business cards). The fewer bags you have to worry about, the better.
4. The Writing Instrument: Adonit Jot Dash Stylus. Anytime you're early for a meeting, open a note-taking app and start jotting down your to-do list, thoughts, whatever, with this powered stylus. Its 1.9 mm tip creates a more natural, pen-like stroke than a rubber tip. Like they say, the stylus is mightier than the sword.
5. The Direct Connection: JBL Charge 2+ Bluetooth Speaker. Here's the thing about conference calls: they don't stop just because you're away from the office. So when you need to jump on a riveting Q2 earnings call, you'll use this portable stereo bluetooth speaker from JBL. It can provide you with up to 12 hours of battery life and even serve as an emergency charger for your smartphone or tablet. Useful.
6. The Coffee Transporter: Hydro Flask 20-oz Wide Mouth. Maybe you're a cold-brew person. Maybe you're a hot latte person. The best thing about this 20-ounce thermos: it doesn't care.
7. The Note Keeper: The Art of Manliness Detective's Wallet. Non-traditional offices normally come sans an actual desk, so organizational skills are key. Enter our leather wallet that has spaces for a mini Moleskine notebook and a pen that writes at any angle (including zero gravity). Because "mobile" could mean anything these days.
8. The Protection: Pong Sleek iPhone 6/6s Case. These days, your phone is basically your office. So investing in a good case for your phone is essential. This particular one lowers your radiation exposure by up to 67%, is tested to US military drop standards and has an antenna that pairs automatically with the one inside your iPhone 6/6s. Now you're playing with power.