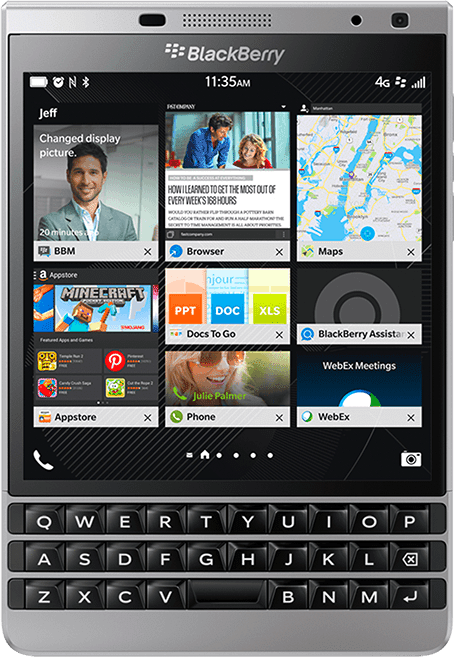 While phones are getting bigger and bigger, their keyboards and overall design remain basically the same tall rectangle. The shape doesn't lend itself to high productivity, either with reading documents or typing up memos. These devices are generally made for consuming media rather than actually getting stuff done.
BlackBerry is changing that. Their phones have always been more about productivity than pizzazz, but with one model in particular, they artfully wed style with function.
You, an ultra-productive businessman, no longer have to carry around the same clunky device that everyone else is toting. While teenagers are on the train watching YouTube videos on their smartphones, you're writing emails, working on your upcoming presentation, reading your company's newest whitepaper and accessing the latest news on your dedicated paper apps; all of this on the sleek BlackBerry® Passport™.
So what exactly sets the BlackBerry Passport apart from its competition? How does it make you more productive and more stylish at the same time?
Large Square Screen – Reinventing the smartphone screen altogether, BlackBerry has focused on readability and browsing. Rather than endless scrolling with your thumb on narrow screens, the BlackBerry Passport allows more text on the screen than any other phone out there. No more squinting. No more pinching the screen to zoom in and out each time you want to read something.
Physical Keyboard – While these have largely gone the way of the dodo, BlackBerry remains committed to an actual keyboard. And with good reason. This user-friendly version is touch-sensitive, making it basically a large touchpad. Awesome. On other phones, when the keyboard pops up, it takes up at least half the screen. No worrying about that anymore. You have all the screen, all the time, and typing is infinitely faster and easier.
Unique Design – it's a whole new shape for the smartphone. Square isn't so square after all. The BlackBerry Passport just looks really good. It's sleek and modern, but also maintains a classic look that won't soon be out of vogue. In fact, last year this unique smartphone proved its design excellence in the most important competition for product design, Red Dot Product Design 2015, where it won the highest individual award for Product Design Innovation.  And now that white is so much a favorite for men, BlackBerry Passport is available in black and white.
BlackBerry Hub. This one-of-a-kind feature integrates your emails, texts, and social messages into one easy-to-use inbox. Stop wasting time swiping from one message box to another!
With these innovations, BlackBerry has changed and amplified how productive and stylish you can really be with your smartphone. Reading long emails, editing memos, even browsing the web – the large screen and physical keyboard make it all a dream. And with 30 hours of battery life, it's dream you'll rarely have to wake up from.
And that's just the hardware. As a powerful businessman, you also need your device to be remarkably secure. BlackBerry has routinely been known as the most secure device and OS out there; it's the trusted phone for numerous heads of state and high-profile celebs.
Beyond secure software, BlackBerry 10 is the only OS out there that's truly geared towards productivity. The apps, navigation, layout – it's all designed to keep you and your business moving forward.
It's been a long time since the smartphone has seen an innovative change designed for the productive, creative person. Rather than just consuming endless streams of media, why not build something? Create something? Take part in something that actually adds to the world? The BlackBerry Passport is the only device geared towards the modern, productive man.